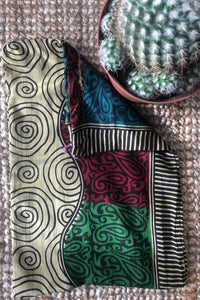 For your Gia Keepsake and precious possessions.
Our Dreamcatcher totes are the perfect pouch;  slow, sustainable, artisan design.
they are consciously created using upcycled vintage textiles.
A practical and glamorous storage solution; strikingly unique.
Each unique each with its own story to tell.
Dimensions 10inches X 13inches.
Beach to bar. Boho to Jet set  Sunrise to sunset. 
Catch me if you can there is only one of me!
Dressed In Sunshine By Gia.