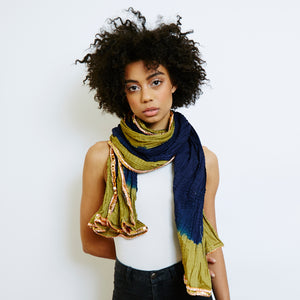 For Sunrise and Sunset,
A sarong, a head scarf, a desert coverup or just a colourful and chic accessory to bring colour to a dressed down look.
Laced in gold trim and a little bit of sparkle.
Our Dyed & Gone To Heaven Scarf are hand dyed and baked in the sun on rooftops in Asia  slow, sustainable, artisan design at its most colourful.
Thumbs up to practical & glamorous & strikingly unique.
Each unique each with its own story to tell.
Beach to bar. Boho to Jet set  Sunrise to sunset. 
Catch me if you can there is only one of me!
Dressed In Sunshine By Gia.